Minnesota Clocks and Watches had a chance to sit down with Michael Johansen, founder of Wolf Creek Watch Company, based in Duluth Minnesota, to get to know Wolf Creek Watch Co. and learn about their first offering, the Voyageur manual-wind mechanical field watch.
[MC&W] Thanks, Michael, for taking the time to talk with me. Wolf Creek Watch Company is based in Duluth, MN on the shores of Lake Superior. Tell us why you have chosen to make Duluth your home?
[MJ] My wife and I chose to live in Duluth due to the smaller size of the city, as well as the incredible and enthusiastic outdoor community that exists here. Mountain biking, kayaking, and skiing are just a few of the outdoor activities that Duluthians engage in on a regular basis. This environment makes for a healthier lifestyle.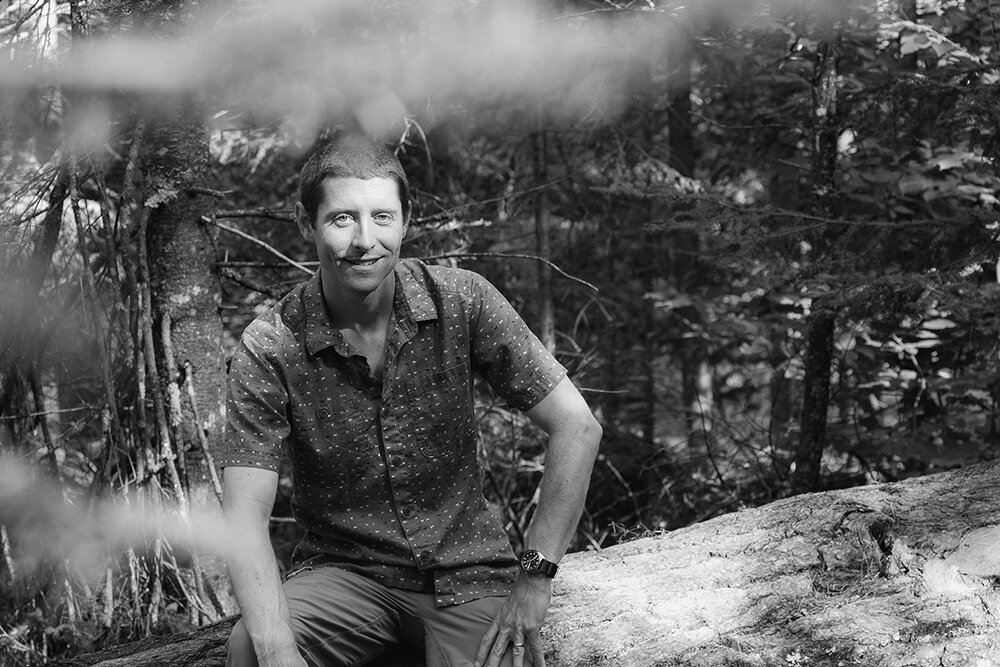 [MC&W] My wife and I love Duluth too; we try to get up there at least a couple times a year. What got you interested in watches?
[MJ] I have always enjoyed watches but have no singular person or event to attribute this to. Rather, I was drawn to the practicality of a timepiece.
[MC&W] What was your first watch?
[MJ] I can't remember for sure, but probably a Timex or a Casio. I also had a military watch that I wore for many years.
[MC&W] What made you start thinking "The world needs another watch company?"
[MJ] I didn't really think the world needed another watch company, but it was a natural evolution of what I felt was missing: I did not see the type of watch I wanted in the marketplace. I would see watches that came close but were always missing something. Mostly, I felt that watches were being overly designed. Instead of looking to some of the amazing watches from the past, watch designers seemed to be making too many changes to timepieces that once had so much character. Many watches came across to me as sterile. Thus, I decided to start a company in order to address these shortcomings in a small way and create something with more character.
[MC&W] Wolf Creek Watch Co's debut product is your Voyageur watch. What makes this watch special?
[MJ] This watch is special because it is simple in many ways, but also meticulous and creative. My local designers really took what I desired in a watch and made it happen. A tonneau case in bronze is a unique combination in the watch market. The bronze will age in a manner that stainless steel wouldn't, which gives the watch more character over time. Also, the 38mm tonneau case gives a great sense of proportion on most wrists. The lumed numbers (using Hoefler & Co's typeface Decimal) and custom designed sword hands also provide great legibility to the watch. Add the ETA 2801 movement and the Voyageur demonstrates high quality but at a more affordable price point.
[MC&W] The pictures on your website suggest a connection to the North Shore and the outdoors. How did Minnesota's beauty influence the design of the Voyageur?
[MJ] The preservation of nature is important to Wolf Creek Watch Co, and the preservation of the natural beauty that is northern Minnesota and Lake Superior, is something I wanted to incorporate into the design of the watch. I believe the color scheme and materials provide a sense of a connection to nature. The Voyageur feels more at home on the wrist of a BWCAW paddler than in a boardroom, and that is what was intended for this field watch.
[MC&W] So now you have a dream and a design concept. How did you go about turning that into an actual watch?
[MJ] I worked with local designers for my branding and the overall design. I had numerous ideas, but it was the designers that turned it into the watch you see. The initial designs were then shared with our watch making partners in Switzerland, and their team addressed the technical aspects of the watch so that everything could come together seamlessly. The Voyageur prototype (which is what you see in the photos) was made and no revisions were required, so the watches are now in production and set to arrive late November 2020.
[MC&W] Were there any parts of the process that surprised you?
[MJ] I think the timeframe for getting my first watch to market was somewhat surprising. We admittedly entered into the production phase right around the time that the world shut down, so supply chains everywhere created unexpected hurdles. You look at this small item and think that it shouldn't take that long to produce, especially when there are no significant design changes. Even though the item is small, that scale does not change the complexity of the process.
[MC&W] Tell us more about the components of the Voyageur. Why did you choose this particular movement and case material? What else is special?
[MJ] The case material was simple, I just really like bronze, especially the higher copper content bronze. The CuSn8 bronze has nice, bright tones to it and a unique patina over time. The movement was also a simple decision, as the ETA 2801 was readily available, while Selita was not. The COVID situation had impacted watch movement supplies, so it was an easy decision to go with the ETA. I also wanted to have a hand wound watch to stay true to the vintage aspect of the design.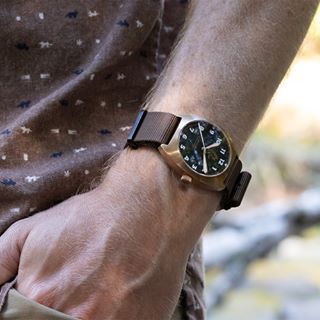 [MC&W] I'll be honest; I've never seen a bronze watch before. I think it's interesting to embrace the patina. What is the buckle made out of?
[MJ] The two Nato straps that are supplied with the watch (a brown and a green) have a stainless-steel buckle that has a back PVD coating applied. You'll find a WC monogram etched into the buckle as well. This secondary mark for Wolf Creek adds another element of class. Additionally, we are working with local artisans to create a leather watch strap with bronze hardware that will eventually be available for purchase.
[MC&W] What size range of wrists will the band accommodate?
[MJ] The Voyageur, and the choice to include two Nato straps, is to be as inclusive as possible and create a watch for anyone. The 38mm tonneau styled case, with a 43mm lug to lug, really does lend this watch to look well-proportioned on most wrist sizes. It is the tonneau styled case that allows for that adaptability. Furthermore, the typography on the dial, as well as the custom-designed sword hands, create a highly legible timepiece, much better than most watches I have in my own collection.
[MC&W] The Voyager ships in November 2020 for $675. There are a lot of other watches for sale in this general price range. Why did you choose this price point, and why might someone choose a Voyageur over something else?
[MJ] Based on my research, a bronze field watch in the $600 range seemed appropriate. I wanted to produce a watch that was relatively affordable for a Swiss Made timepiece, thus I focused on quality materials and design, but no extra thrills. If you like bronze watches, and like field watches, I don't think there is a watch out there similar to this timepiece. Compare it to other field watches in this price range, and I think you will find this is a good value for the materials, movement and overall aesthetic. Also, the design of the dial really is something. I may be biased, but the numbers and sword hands are amazing together! And did I mention a fully lumed second hand?
[MC&W] The watch is assembled in Switzerland. Is it serviced in Duluth?
[MJ] The watch can be serviced in Duluth (watchmaker to be announced in the near future). However, if a customer has a watchmaker that they have locally, warranty/service work can be done through them. Full warranty and service details are on our website, but we want people to trust us to make robust timepieces, and to feel that Wolf Creek will be there if the watch is not functioning as intended. Our goal is for our timepieces to last decades!
[MC&W] What's next for Wolf Creek Watch Co?
[MJ] I don't want to dive too far into this question, but we are on the shores of Lake Superior…
[MC&W] Michael, I really appreciate you taking the time to talk with me. It's really great to see entrepreneurial work done in the watch world, and it's equally great for such a cool piece to be created in Minnesota. I wish you the best of luck on your product launch and I hope you'll stay in touch as you dive into your next project – that sounds exciting!