Horological gatherings in the time of COVID have been few and far between. Our OT Lang chapter is on hiatus until safety improves, but the Minnesota Clockmaker's Guild decided to meet!
The meeting was held outside the Hopkins, MN Pavilion building in a picnic shelter. Attendees wore masks and practiced social distancing. This was actually my first Guild meeting – meetings are held the first Thursday of the month, which tends to be a conflict for my schedule, but I recognized a few faces from the OT Lang group.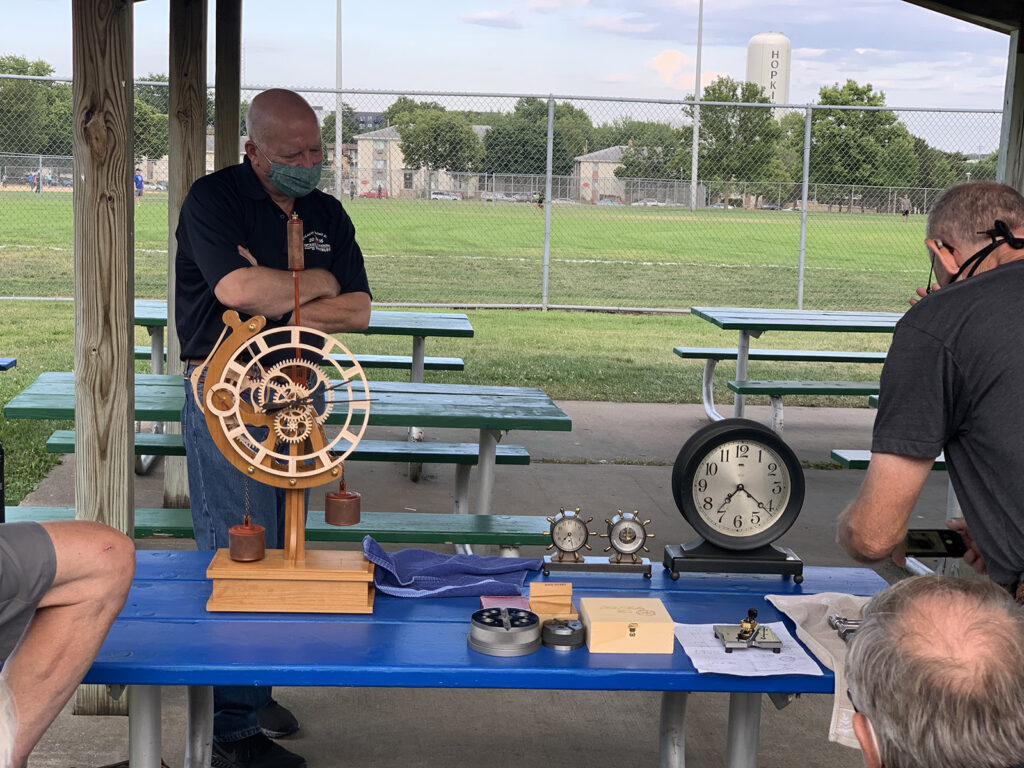 This meeting was a catch-up meeting with no formal program. Members brought projects they have been working on to share.
Steve Robb of Lignum Tempus brought his newest creation – an electric rewind gravity pendulum escapement clock. As is typical of Steve, this latest piece showcased his exquisite craftsmanship as well as some interesting features including a 2 second pendulum. The batteries and winding motor live in the base of the clock and winding is activated when one of the weights touches a contact on top of the base. Unusually, the escapement is off-center at the 9:00 position.
Another member shared his metallurgical experiments in trying to age some new brass case components to match the rest of the case. Other projects included a repaired electric Mastercrafter clock, some hand-machined and fabricated metalworking tools, and the beginnings of a high-precision rotary indexing modification to a jewelers lathe. I shared my work on the Seth Thomas Office Calendar No 2 case work and calendar mechanism work.
It was a lovely evening and it was great to catch up with people I haven't seen in more than six months. I haven't heard if a September meeting will happen or not, but hopefully it can happen if weather cooperates.
Please join us! Contact Us and we can get you connected to the right people.