Minnesota NAWCC Chapter
OT Lang Memorial

Welcome to the home page of the Minnesota chapter of the National Association of Watch and Clock Collectors – the O.T. Lang Memorial chapter.
Important update: Now that COVID is winding down, meetings are resuming! Please check the Events Calendar for information on upcoming meetings.
Who we are
OT Lang is a group of people passionate about clocks and watches and has met regularly for over 40 years! Come join us and get to know and learn from folks with deep knowledge about all things clock and watch. Whether you are a beginning or veteran collector or if you simply enjoy learning about clocks or watches, there is something for you here.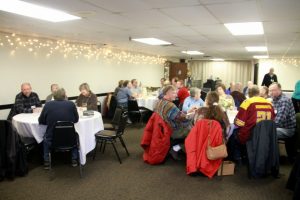 WHEN WE MEET
We meet on the third Saturday of every odd-numbered calendar month for a meal and a program. The location rotates to various restaurants around the Twin Cities area. Programs are either in the afternoon or in the evening. Check the Events Calendar for information on the next meeting.
What We Do
Chapter meetings typically last 3 hours or so. We start with a social hour followed by a meal, some quick club business, then enjoy a program on a clock or watch-related topic. Some programs are presented by club members; for other programs a subject matter expert is brought in. A mart is part of every meeting – club members can bring items to buy and sell.
The official program is always great, but the best part of the club is getting to know other clock and watch enthusiasts. Members include private clock and watch collectors, local clock or watch business owners, professional and hobbyist repairers, and folks building clocks from scratch.
The cost of each meeting varies based on the restaurant, but is normally around $25.00 per person for the meal.
How To Join
Club membership is reasonably informal. The annual membership fee is $15.00, payable at any chapter meeting. Meetings typically require prior registration about 10 days in advance so the restaurant can get an accurate meal count. Contact Us for information on the latest meeting and for any other questions.
The Minnesota OT Lang chapter of the NAWCC is related to the National organization, however membership is separate. To join the Minnesota chapter of the NAWCC, Contact Us. National NAWCC membership information is available on the NAWCC website. Consider joining both!
Prior Topics
March 2023 meeting – Andy Dervan, national fellow of the NAWCC gave a presentation on All Stars of Waltham, MA.
January 2023 meeting – Members showed their restoration projects.
November 2022 meeting – Dennis Ondik presented on tall case painted dials and their restoration and showed his own dial painting project.
September 2022 meeting – The group took a boat cruise on the Mississippi River.
July 2022 meeting – Cecelia Schiller, maker of interactive automata showed off some of her creations and gave a presentation on how she constructs them.
May 2022 meeting – Members gave presentations on special clocks or watches. Presentations included a Bulova Accutron Presidential presentation clock, and Waltham crystal plate pocket watches.
March 2022 meeting – The March 2022 meeting is the annual restoration project meeting where members bring a restored clock or watch to share.
January 2022 meeting – The January 2022 meeting was cancelled due to COVID-related health concerns.
November 2021 meeting – TJ Cornish presented a program on the Hammond Clock company, which became the Hammond Organ company. TJ shared the history of the various Hammond Company stages, information on the synchronous motor that was the central part of his clock mechanism, and then the organ that used similar technology to influence popular music for 90 years and counting.
September 2021 meeting – Members shared their favorite clocks and watches.
July 2021 meeting – After a too-long COVID hiatus, we regathered at David Fong's restaurant and enjoyed the excellent presentation Horology 1776 presented by Bob Frishman, Fellow, NAWCC and chairman of the NAWCC Time Symposium.
May 2020 meeting – The May meeting has been canceled due to Covid-19.
March 2020 meeting – TJ Cornish was scheduled to present a program on Hammond clocks and organs, but the meeting was canceled due to Covid-19. The presentation will be rescheduled.
January 2020 meeting – Members of the club presented various repair projects they completed in the past year.
November 2019 meeting – Tom McIntyre presented a program on creating a museum exhibit about the watch company that bore his name – The McIntyre Watch Company of Kankakee, Illinois"
September 2019 meeting – The club took a river cruise leaving from Redwing.
July 2019 meeting – Steve Robb of Lignum Tempus presented a program on the handmade wooden clocks he builds. Steve's clocks take around 500 hours each to complete due to extreme attention to detail and are very beautiful as well as functional.
May 2019 meeting – Dean Zenor of Dobson Pipe Organ Builders presented a program on pipe organ construction and some of their projects around the nation.
March 2019 meeting – TJ Cornish presented a program on navigating by chronometer and a history of Hamilton naval watches
January 2019 meeting – Various club members presented clock or watch restorations they have completed.
November 2018 meeting
September 2018 meeting – the club took a riverboat cruise down the St. Croix river.
July 2018 meeting – Various club members presented some of their fantastic finds
May 2018 meeting – Kristin Cheronis gave a presentation on the Nicollet Ave Clock Restoration
March 2018 meeting – Andy Dervan spoke on Michigan Clockmakers
January 2018 meeting – Various club members presented clock or watch restorations they have completed.
The OT Lang Memorial Minnesota NAWCC Chapter web page is hosted by Minnesota Clocks & Watches as a public service. Minnesota Clocks & Watches, The NAWCC, and the OT Lang NAWCC chapter remain independent organizations.