I am in Pennsylvania attending the NAWCC Introduction to Pocket Watch Repair class. I arrived a day early to visit the NAWCC Clock and Watch Museum as well as see some of the local clock businesses. I decided to make the hour-long drive to the Pottstown area to stop in to Merritt's Antiques and clock supply. Merritt's is one of the major clock repair material suppliers and has a significant online business. They also have a storefront that customers can visit.
The drive from Columbia where I am staying to Merritt's is part freeway, part road construction, and part rural maze. Even with GPS, I drove past it once before finding it. To be honest, the outside of the building is pretty…well…dumpy. The good news is that as it was a nice day the door was open and I was greeted by this view, which removed all doubt whether my long drive was worthwhile.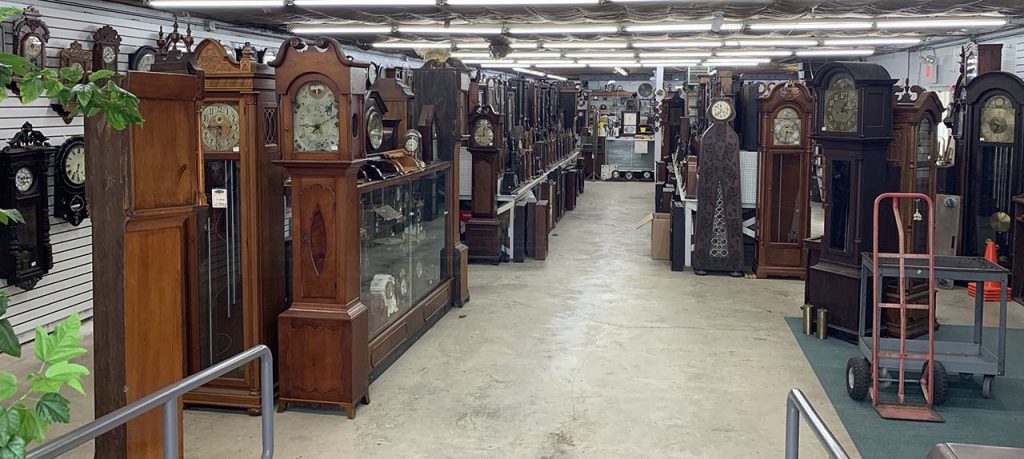 This picture shows maybe 25% of their inventory. It's hard to count, but there must be 750 clocks and 75 pocket watches.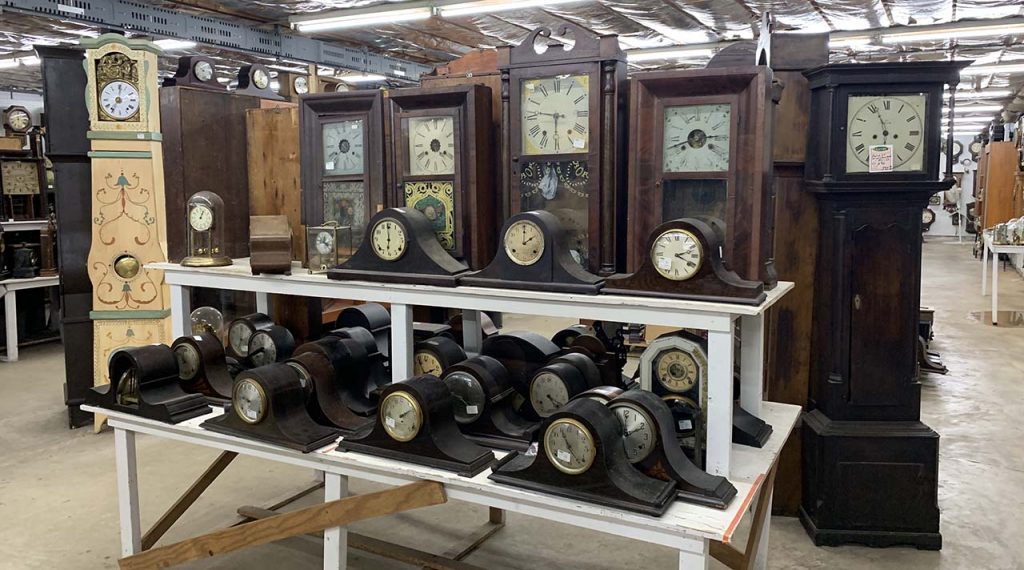 The sheer number of clocks is staggering, but Merritt's has done a nice job organizing and laying them out. There are some concentrations of similar clocks, but you really need to browse the whole place even if you are only interested in a particular type of clock.

I'm always interested to see how prices vary between different dealers. Some dealers are simply delusional. Others seem to have a strange mixture of good values and overpriced items. For example, a dealer I visited in Colorado recently had absolutely astronomical prices on their pretty average clocks – $800 for kitchen clocks and Ogee clocks, however their watch prices were reasonable. For the most part, I thought Merritt's prices were reasonable. In addition to that, they were having a sale this month, so I walked away with my arms heavier and my wallet considerably lighter and felt good about the value I got. Thankfully I was limited by what I could carry home on an airplane, and so had to leave a number of cool pieces behind.
I enjoyed my interaction with the two employees that patiently helped me as I dug through their watches. We chatted about the softness of antique prices right now and how Merritt's is still in business because they adapted and chose to sell their inventory at current market prices rather than try to hold on to prices from when the market was higher.
I knew Merritt's was a valuable source of clock material. I didn't know they had such a significant retail-friendly clock and watch operation. I have seen many other cool clock and watch related things on my visit to the Columbia area, but this was a highlight. I would encourage you to invest a few hours to take a bit of a drive and visit Merritt's.