Compared to Pennsylvania, Illinois or Ohio, Minnesota isn't known for major contributions to the watchmaking industry in terms of large manufacturing, but there are a number of "private label" watches – a watch labelled with a different name than the manufacturer.
One interesting private label watch with a Minnesota connection is the Dan Patch watch, commissioned by the owner of Dan Patch, one of the most famous race horses at the turn of the 20th century.
Dan Patch was born in Oxford Indiana in April 1896. He had a bit of a challenging start, but by the winter of 1898, showed promise both physically and in his disposition. Dan Patch's performance began attracting attention, and in December 1902 was purchased by Marion Willis Savage, owner of a large animal feed company based in Minneapolis for $66,000, which in today's money would be more than $2,000,000.
Savage brought Dan Patch from Indiana to what is now Savage, Minnesota, where Dan Patch spent much of his life when not on the road winning sulky racing titles. Dan Patch's career ran from 1902 – 1909. In that period he set 9 world records, his most famous at the Minnesota State Fair in September 1906 where he ran a mile in 1 minute and 55 seconds. His record stood for more than 30 years.
Marion Savage, an avid marketer, purchased Dan Patch as a mascot for his business, the International Stockfood Company. He lost no time in selling a large variety of "Dan Patch" items, including wagons, harnesses, blankets, manure spreaders, washing machines and, more to my taste, chronograph watches to celebrate and capitalize on the success of Dan Patch. These watches are private labels and came from at least two manufacturers.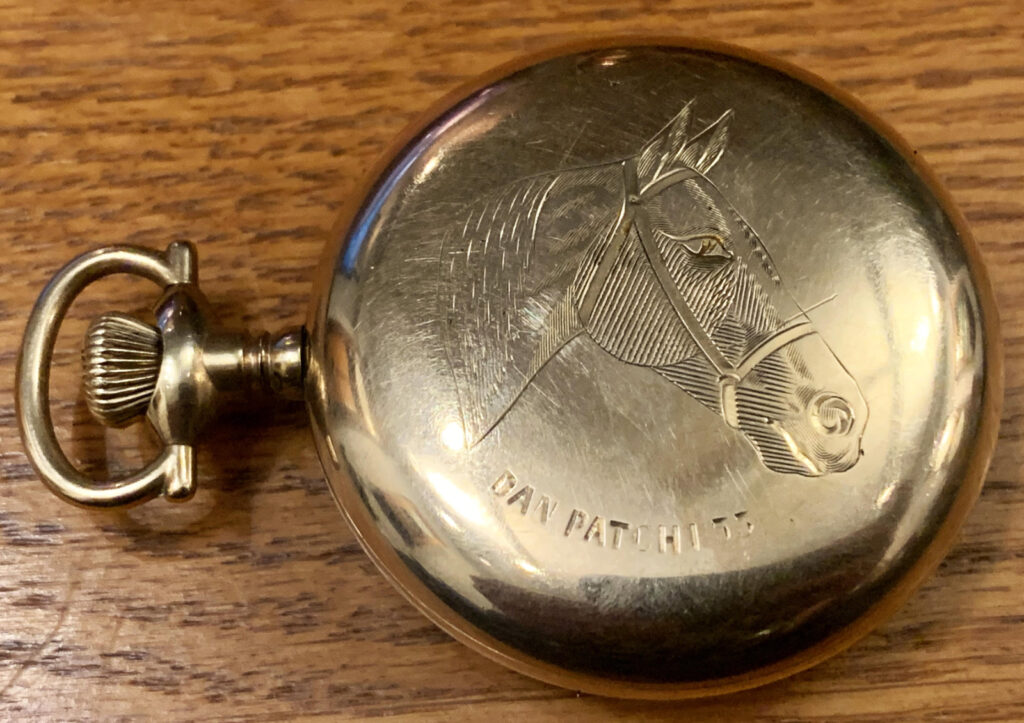 Private Labels
Private labels were often commissioned for the retailer. Some private labels are simply a name applied to the dial with the movement unmodified and complete with the original manufacturer's label and markings; others are more thoroughly disguised with the movement labelled with the private label name in place of the manufacturer's.
Marion Savage's private label contract specified:
No Company name was to appear on the movement, dial, or case.
The name DAN PATCH STOP WATCH had to appear on the dial of all watches
The name DAN PATCH was to appear on the movement
The case was to use the silhouette of Dan Patch with "Dan Patch 1:55" on the back of the case. This was the exclusive patented case of Mr. Savage.
The Savage Enterprises were to have exclusive sales rights for the watch*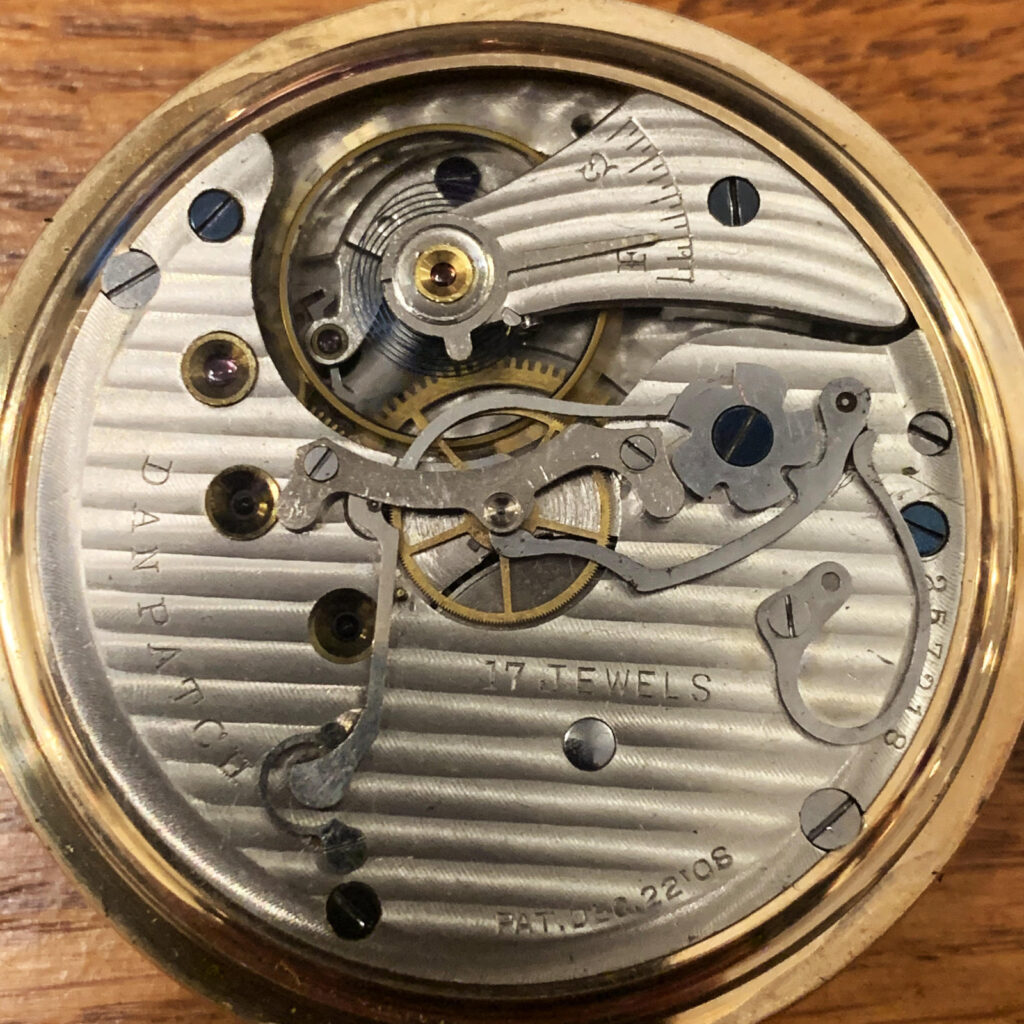 This example was made by the New York Standard watch company and is labelled Dan Patch both on the dial and the movement. All Dan Patch watches are 16-size open-face watches with single-sunk dials. This watch is 17 jewels; according to the Pocket Watch Database, this movement style was also made with 7, 11, and 15 jewels. This is a chronograph, or stop watch. It's not hard to see why Savage chose this kind of watch – it brought a sense of excitement and connection to Dan Patch.
This is a simple chronograph – it times only basic seconds on the large hand. Press the winding crown to start the watch, press it again to stop the watch, and press a third time to reset the hand to the home position. More complicated watches time seconds as well as minutes and sometimes hours. A typical Dan Patch race ran just a couple minutes, so counting the number of times the chronograph hand went around was good enough.
Savage also sourced watches from the New England Watch Company, which looked similar to the New York Standard version. Most were 7 jewel watches.
Interestingly, though Savage's marketing of Dan Patch-branded items began almost immediately, these watches were commissioned at the very end of Dan Patch's career in 1910. They were available for direct purchase from Savage enterprises, or as a product premium with a large enough feed order.
Both Dan Patch and his owner Savage passed away in July, 1916.
I have not been able to determine how many watches were made – I guess a number of thousands. They do come up from time to time, but seldom enough that coming across one is a pleasant surprise.
Acknowledgements: Minnesota Clocks & Watches is grateful to Warner D. Bundens, Jr. MD whose article The Story Of The Dan Patch Watch in the NAWCC bulletin from 1975 was very helpful in preparing this article. Please consider joining the NAWCC for access to this and other fantastic resources.
Also check out the Dan Patch Historical Society.
*Taken from The Story Of The Dan Patch Watch, NAWCC bulletin 1975